Student researchers at Virginia Tech are exploring new ways to develop sustainable water systems as resources become strained in many parts of the world.
Caitlin Grady, a 2010 graduate from Norfolk, Va., studied the use of rainwater harvesting in the Dominican Republic. Traveling to the tourist community of Punta Cana, Grady designed a rainwater collection system for an area resort intended to supplement its water supply and decrease groundwater consumption. "[Punta Cana] experienced rapid amounts of growth in a very short amount of time," Grady said. "This sort of research can help keep in mind the preservation needed for water resources in the future."
UNIVERSITY PARTNERSHIP PROVIDES OPPORTUNITIES
Grady's study was completed with the assistance of a mentor provided by the Virginia Water Resources Research Center, located on the Virginia Tech campus. The Water Center has facilitated many undergraduate projects through grant funding.
Sheila Christopher, a research scientist at the Water Center, considers research experience to be critical for students in scientific disciplines.
"This is a great way to take what they've learned in lecture and put it to the test," she said. "It gives them this active learning experience and develops their problem-solving skills."
Student researchers are also able to take advantage of the Water Center's many connections with experts and key authorities in the field by presenting their work at regional conferences.
Grady has given talks on her rainwater harvesting research multiple times. "Presenting is a good experience," she said. "Feedback and opinions are what guide everyone's research."
THE WATER CONNECTION
Stephen Schoenholtz, director of the Water Center, has seen increased interest in undergraduate research as students from a variety of academic backgrounds find connections between water and their fields of study.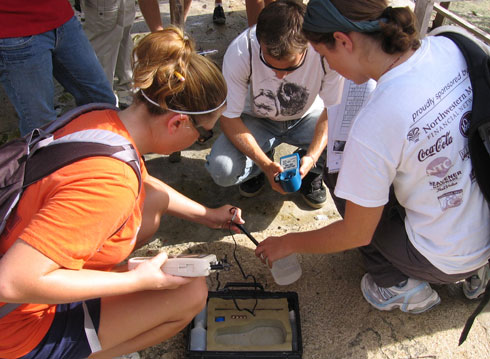 Heather Poole, a senior from Chester, Va., majoring in environmental policy and planning, worked with a Water Center mentor to explore options to reduce water and energy use through sustainable development. She conducted a study at Tom's Creek Village in Blacksburg, Va., to analyze the energy savings that decentralized wastewater treatment facilities provide.
Poole says that the connection between water consumption and energy is often overlooked. She said she hopes to see residential developers consider on-site water systems to conserve the energy used for water transportation.
Exploring non-traditional conservation methods has proven that "there are so many ways that you can conserve energy and hopefully lessen your carbon footprint," Poole said.
Catherine Sims, a first-year biological sciences major from Chesapeake, Va., conducted research focusing on water quality. For her first project with the Water Center, she wrote an article geared towards the general public that discusses simple ways to decrease water contamination, including proper disposal of pharmaceuticals and reduced consumption of personal body products that contain antimicrobial bacteria.
Sims also worked with Schoenholtz on a literature review of nanoparticle water contamination, an emerging problem caused by advancements in industry and technology. "
Anything that I've learned about nanoparticles or emerging contaminants has been through the Water Center," Sims said. "They offered me a lot of resources."
BRIGHT FUTURES
Schoenholtz considers research experience to be an important stepping-stone for the career paths of many undergraduates: "In many cases, they realize it's exciting, provocative in some ways, stimulating, and head on to grad school and further their careers," he said.
Grady is enrolled in the Ecological Sciences and Engineering doctorate program at Purdue University. Poole said she is considering law, while Sims plans to apply to medical school.
"As population pressures expand anywhere you look there are water issues, and that translates into tremendous opportunities for young people," Schoenholtz said. "The future is extremely positive and bright for anyone interested in water."