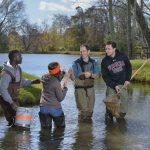 New degree program will help students with both the scientific and human sides of water issues
Competition for clean water around the world intensifies year after year.
Stressors, such as climate change, land use, and changing demands on water resources, call for people with a scientific understanding of the water cycle. Sustainable urban expansion requires an understanding of the interactions among water availability, water quality, culture, and society. Increasingly, solutions to sharing water in a sustainable manner require a mix of skills involving water science, law, economics, management, and related social sciences.