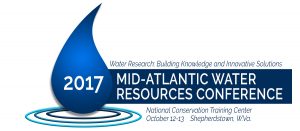 2017 Mid-Atlantic Water Resources Conference
October 12-13, 2017
The Virginia Water Resources Research Center at Virginia Tech is pleased to invite you to the 2017 Mid-Atlantic Water Resources Conference to be held October 12 & 13, 2017 at the National Conservation Training Center in Shepherdstown, WV.
The conference theme is "Water Research: Building Knowledge and Innovative Solutions."  The conference will focus on current water research efforts in the Mid-Atlantic region.
Conference Agenda
The conference agenda is available online here.  Each conference participant will have the opportunity to learn from two keynote speakers, a panel discussion on water research, 20 oral presentations (55 total twenty-minute talks), and 17 poster presenters.  Concurrent session topics include watershed management, stormwater, modeling and forecasting, water monitoring and data management, groundwater, water-energy nexus, and aquatic life resources.  Numerous networking breaks will be provided.
Registration Information
Registration covers full access to conference sessions, networking reception, and poster session as well as conference meals and breaks.  Special rates are available for students.  Register here.  Registration closes September 10, 2017.
Questions?
For more information, see the conference website at http://midatlanticwrc.org/.  If you have additional questions, please contact Jane Walker at janewalk@vt.edu (540-231-4159) or Andrew Stacy at wvwaterconference@mail.wvu.edu (304-293-7085).
About the Conference Hosts
This regional conference is a collaborative effort of the Water Resources Institutes of Delaware, New York, Pennsylvania, Virginia, Washington D.C., and West Virginia.  These institutes were established under the Water Resources Research Act (WRRA) of 1964.  Each institute is housed at a land grant university and serves to link water experts in our nation's universities with those who manage and use water resources.  More information about the institutes can be found here.
Sponsorship and Exhibitor Opportunities
If you are interested in exhibiting at the conference or sponsoring it, please see the conference website or contact the Conference Coordinator, Andrew Stacy, at wvwaterconference@mail.wvu.edu or 304-293-7085.
Thanks to the West Virginia Department of Environmental Protection for sponsoring the conference.