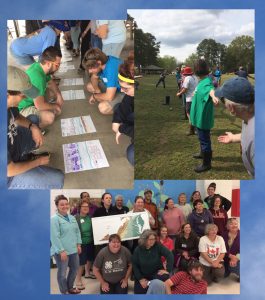 We are pleased to announce the publication of the Virginia Water Educators Directory! The Virginia Water Resources Research Center and the Virginia Department of Environmental Quality have worked together to publish this online directory of trained water educators in the state.  This website directory is intended to establish and reinvigorate the network of water educators in Virginia.
The Virginia Water Educators Directory will facilitate connections between the network of highly-trained non-formal water educators and classroom teachers conducting successful Meaningful Watershed Educational Experiences (MWEEs) at the elementary, middle, and high school levels.
Please feel free to share the Virginia Water Educators Directory with any appropriate groups, and join our Google Group (click here to join).  Contact Liz Sharp (lizsharp@vt.edu) with the VWRRC center with any questions.